The Hidden Value of Customer Self-Service in B2B Businesses | Part one
ustomer self-service is something that we often hear spoken about, but in B2B organizations it's regularly conflated with customer support instead of genuinely giving consumers autonomy over their experience.
However, there's evidence to show that in subscription business models, if you give B2B customers the power to interact with their own subscriptions, thereby helping to facilitate their own commercial goals, you can also improve the sustainable business outcomes of your organization.
In this article and the upcoming series, we are going to explore customer self-service, particularly in B2B subscription businesses. We will look at its role in the sales process, how it can enable revenue growth, and how to employ it without sacrificing the long-term objective of subscription businesses; customer relationships, engagement, and consumer satisfaction.



Differentiate customer self-service from customer support
Customer self-service essentially means allowing customers to take action themselves in the management of the service they receive from you.
However, instead of tapping into the success that could result from giving customers the autonomy to interact with their purchases and the brand, many B2B businesses put their energy into enabling customer self-service from a customer support perspective. For example, providing answers to FAQs so that customers can solve problems themselves and thereby save time.
Not only is this an inverted approach to self-service, implying a lack of technological capability and innovation, but it's also often frustrating for the customer. Invariably those answers don't quite fit the challenge the customer might be having, and many businesses use the existence of something like FAQs to proactively avoid direct communication with the customer.
However, this approach also acts as something of a sticking placer solution to creating a genuinely dynamic and customer-focused experience, diverting resources away from developing solutions or making structural changes to systems and processes that will facilitate your own success and future proof your business.
Customer self-service enables the success of your business
When we think about customer self-service in a B2B context, we need to consider two things:
Are we providing a positive user experience?
Is the experience helping to support the business objectives of the client?


Where only the first really applies in a B2C context, answering in the affirmative to these two questions when it comes to B2B self-service subscription models means you're truly taking a customer-centric approach. An interest in their success via your offering is directly linked to your success as a subscription business, leading to better customer retention, more reliable revenue streams, and a greater likelihood of growing your customer base through recommendations.
The reasons customer self-service can enable the success of your business include:
Increase sales efficiency and access to market
By enabling self-service options, businesses are able to expand and grow in different markets with fewer resources.
For example, the downmarket (smaller customers) doesn't generate as much value and they tend to be less sticky due to the rather simple use cases. However, collectively they can still be a valuable part of your revenue and of course, they may grow into larger clients down the line. Self-service is a cost-effective way to capture that section of the market so that businesses can allocate human resources to higher priority customers.
Another way self-service benefits businesses is by allowing them to explore and test the market in locations where they don't have sales representatives in place yet, quickly, with agility, and at a lower cost.
Automation
Automation comes up a lot when discussing subscription models, and it is part of it, although it's not the whole picture. Implementing automation strategically and with sensitivity to enhancing the customer experience, it can save time for your teams and allow them to redirect attention to high-priority interactions such as real-time support.
Additional touchpoints and data points
The mechanics of a true customer self-service system gives you the opportunity to increase the number of customer touchpoints and data-gathering opportunities that you have, through which you can better understand them and continue evolving your offering to suit their needs.
Observing and recording how they interact with the product and subscriptions will give you insights into the customer journey, alerting you to any opportunities or issues. This will kickstart the development of a more sophisticated approach to customer experience, and as a result, the resilience and success of your business by facilitating the development of predictive analytics to understand customer behavior. That in turn will support retention and upsells and help you to try to intercede before a customer decides to leave.
An extra communication channel

Having a dedicated platform, where you own the relationship with your customer, is not just about monitoring customer behavior; it's also an opportunity to improve customer experience through dedicated communications. Consumers are bombarded with communications to their email and phone, where they may well not be in the right mindset to engage. On your dedicated platform, it's an opportunity to develop an ongoing dialogue with engaged customers.
For example, you might use these as platforms for customized promotions or banners, interactive flows can be implemented for product releases, free trials for upgrades can be offered, as well as add-on purchases. Engaged customers are much more likely to make further purchases, especially when offers are in line with their wants and needs.
This in turn helps to generate more trust in the platform, which fuels greater loyalty.
Customer Retention

When customers are empowered to manage their own purchases, it creates a sense of trust in the brand and product. The result, as mentioned, is greater loyalty as well as customer retention, thereby improving the strength, brand value, and revenue streams of your business.
"Trust takes years to build, seconds to break, and forever to repair", said the American entrepreneur Dhar Mann.
It is an intangible part of your brand value that's the result of a combination of factors rooted in customer experience.
Customers who trust you are more likely to stick with their subscription in the initial instance, but they are also more likely to turn to your business before they outsource to competitors, if they are looking for additional services.
Create an empowering self-service experience



So with that in mind, what do you need to create a genuine self-service experience in a subscription business?

In a subscription-based business, customer self-service starts with creating a shop page and checkout flow for customers to complete their purchases. That's followed by a purpose-created customer portal through which they can manage their subscriptions, including cancellation flows that enable them to have control over their own processes.

No matter what kind of customer self-service process you employ, it's all for nothing if the trinity of a subscription business is not in sync:
User experience
Automation
Predictive analytics


In practical terms, that means:
A change of mindset
When launching a subscription service most businesses take a rather sales-driven approach toward the customer journey. However, focusing on the customer needs should be the driving force behind the design of the customer journey and the systems that facilitate it.
From end-to-end, the question needs to be 'how do I keep this customer long-term?' - that begins with asking how each part of the journey supports the customer's needs. Enhancing the customer experience is about sustaining long-term relationships and thereby sustainable revenue streams.
Dedicated systems
Investing in the right systems and processes to facilitate customer self-service as part of a subscription model, with a view to the ongoing evolution of the business and its technical demands, is the second part of the puzzle. Putting this in place is the direct result of having the right mindset.
For example, having an additional portal where customers can interact with subscriptions, upgrade, downgrade, change terms, manage invoices, and purchase add-ons. This also provides businesses with another opportunity to improve customer relationships before they're lost. For example, if customers want to pause or cancel subscriptions, creating a cancellation flow that they enter before they leave is an opportunity to win them back without undermining their autonomy.
In the context of a subscription business, that's self-service.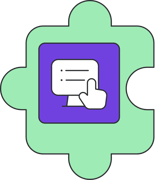 Upgrade from traditional engines
to a robust subscription system
Start now with >keylight/