The Hidden Value of Customer Self-Service in B2B Businesses | Part four

hen it comes to cancellation processes, most subscription-based businesses view it from a position of defence, often making it difficult for customers to leave. However, the cancellation flow is an opportunity to learn more about customers, improve your relationship with them and keep the door open for them to return at a later date
In this article, we wanted to explore common cancellation journeys and their impact on customer relationships, as well as look at ways to change that experience to the benefit of your business and the consumer

Understanding cancellation flows
A cancellation flow is an integrated process in the customer portal that allows users to cancel their subscriptions. However, if done well, this flow can also be designed to understand the reasons your user wants to leave and possibly prevent it from happening by meeting their needs better.
Typically cancellation journeys include features like:
An evergreen discount


A short-term discount


A downgrade offer


An offer to pause


Asking the reason for cancellation


Asking for feedback on services
Where most companies fall down is in trying to retain customers by strong-arming them, which usually results in dissatisfaction from both ends irrespective of the outcome. If customers are retained at a lower revenue (using a discount) then the company feels dissatisfied and invariably it means the customer is receiving a lesser service. If the customer is lost, but the process was a hassle, then it leaves a bad taste that means they're unlikely to return or recommend you.

Furthermore, lots of companies miss out on opportunities in the cancellation journey because they don't allocate resources to designing it effectively. For example:
Data collection is not optimised

If the cancellation journey isn't accurately defined then you lose key touchpoints to obtain insights - there's a lot of lost data if the cancellation flow isn't streamlined and easily integrated. Without proper data and a true understanding of the customer, the root cause of churn is not resolved, which means you're effectively using a sticking plaster solution rather than taking a sustainable approach to the success of your business by understanding where improvements can be made.
Systems don't meet your needs

In the past, we have written about the "failed path of one shoe for every journey". In short, it means that systems need to be customised to meet the needs of the business rather than trying to adapt legacy systems that were not designed for the purpose. This tends to be done to save money at the outset. However, any short-term cost savings will be rapidly lost and superseded by the cost of constantly spending on complicated and insufficient workarounds. They also lead to poor customer experiences. In the context of a cancellation flow they tend to make the process overly complicated for the customer and uninformative and unhelpful for the business.
Decoupled systems

We have also written before about decoupled systems – a common issue in subscription-based businesses that don't use purpose-built platforms and systems. In terms of the cancellation flow, decoupled systems lead to the end-to-end obfuscation of processes, so that businesses cannot understand customer churn and its causes. For example, you cannot properly understand how often the customer needs to pay for unexpected overage, whether they have been paying the invoice on time, or whether they have used all the entitlements in the subscription package - in essence, are they paying for more than they need? If you have this information in advance, you can provide a better customer experience by ensuring you are meeting their needs, and help prevent them from entering the cancellation flow in the first place.
Opportunities in the cancellation flow

We like to view the cancellation process differently. By reframing it to understand the lifetime journey of each individual to date, each time a customer enters the cancellation flow, it's also an opportunity to win them back and to improve the experience across the board.

The opportunities available to businesses in the cancellation flow include chances to:
Reduce churn with less hassle
It's important for businesses to remember that customers have their own reasons for cancelling subscriptions and services - it might have something to do with you, but it might be entirely unrelated. They could have a change in life circumstances or business strategy that means they need to temporarily leave, but it doesn't mean that they won't recommend or return if they have a positive experience with you, even at the point of cancellation.
In fact, the moment of cancellation is essential for their lasting impression.

Business consultant, Lincoln Murphy, wrote:

"I've seen dramatic results introducing Cancel Flows, including an immediate 15% reduction in churn for an email marketing system where the in-app Cancel Flow replaced the need to call in to cancel."
Optimize resource management

It's more cost-effective to provide a self-service cancellation flow than a manual one. As lots of cancellations tend to happen after an automatic renewal, you can find yourself refunding payments to frustrated customers, which creates administrative hassle and damages customer relationships. Ideally, the cancellation flow should be customized to individual requirements so that businesses can design the flow to be completely or partially automated based on the customer segment.
Reinforce the value of your product
You can use the cancellation flow to outline the benefits that the customer is leaving behind. You might use the data that you have to show what the customer has enjoyed to date, or you might showcase upcoming opportunities and features.
Improve your product or service
Using the cancellation flow to ask for feedback, listening to it and acting on it, is a chance to see if there is space for improvement in your product or service. This can be fed back into product and service development, but only if you have an end-to-end system that allows different departments to interact with one another and the data.
Provide customers with complete autonomy
By facilitating a positive self-service cancellation flow, all work towards giving customers a sense of control and a positive experience with your business. Something as simple as allowing customers to cancel their subscription without having to make a phone call doesn't just make for more amicable relationships, but it can actually reduce churn.
Adhere to legal requirements
It is highly likely that it's a legal requirement to give customers the opportunity to cancel their subscription or service, and the method for doing that could correlate with the type of business that you have. For example, in California, if a subscription company accepts payment online, it must also allow cancellation online.
Deliver a seamless cancellation flow
Creating a seamless cancellation flow hinges on user-centricity and customization of the system and processes to your business and its requirements in order to provide accurate data and better customer experiences.
Key components include:
Smart systems
The subscription system must be smart in order to differentiate between customers and their reasons for coming to the cancellation flow. That way, the different win-back journeys can be triggered automatically, allowing the right actions to take place.
Flexible architecture
Every customer has their own reason for cancelling a subscription, making each business case unique. Your business needs a system that provides end-to-end data, and an ecosystem that is highly flexible so that win-back journeys can be tailored to customers, and automated to align with downstream processes from contract amendments and finance to reporting.
End-to-end processes
End-to-end subscription management systems allow businesses to automate processes comprehensively and get the full picture of the customer to understand the profile and intention from clean and logical data.
A user-centric approach
By adopting a user-centric approach, businesses can easily create the conditions needed both in terms of systems and team mindset, to differentiate customers and configure the right journey to win customers back.
At keylight we are dedicated to a user-centric approach to subscription-based businesses, including the creation of constructive cancellation flows that help support business objectives.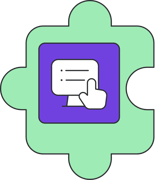 Upgrade from traditional engines
to a robust subscription system
Start now with >keylight/