The Anatomy of Subscription Businesses | Part two

ne area in which the subscription business model has almost perfect synergy is with the Internet of Things (IoT). This is a particular industry use case of specialization at keylight.

For context, the IoT market is predicted to reach the US $19 trillion in the coming years. Having been valued at $23.09 billion in 2015, it is expected to reach $443.27 billion in 2022. In this article, we have sought to outline the synergy between subscription models and the IoT, showing how businesses can monetize IoT offerings and maximize their business goals with the right subscription system.
Internet-of-things (IoT)
First of all, if we look at the benefits of the IoT, we can begin to establish what underpins its harmony with subscriptions and why the right subscription model is essential to reaping results.

Businesses benefit from operating within the IoT because of the flexibility, scalability, cost-effectiveness, and easy maintenance that it has to offer. Crucially, its continuous connectivity with customers also offers great benefits, increasing customer dialogue, and knowledge. For customers, the benefits include greater service personalization, financial savings, ease of use, and faster deliverables.

There's no real limit on which industries or business types can enter this sphere. What transitioning to the IoT typically means for established businesses is the effective shift from a product-based to a service-based organization, requiring a reconsideration of the customer lifecycle, the systems, and processes that it's delivered through.

Johan Trip, Director - Subscriptions Value Stream Lead at Philips wrote:
"The emergence of the Internet of Things (IoT) technologies has disrupted vendors across industries, from financial services to technology to agricultural equipment. The first and most important step is getting out of the single transaction mindset. When you start using connected devices, you're not simply an equipment manufacturer or a parts vendor anymore. You're a service provider."





Subscriptions and the IoTs combined
The benefits of bringing subscriptions and the IoT together begin with their similarities. At their core, both IoT and subscription models look like they're about technology but they are actually about the connectivity you build between your systems and your customers. Both take service as a product to the next level.

They mirror one another's flexibility and ability to build dynamic customer relationships. They also both facilitate, encourage and enable businesses to access new markets and new industries. These benefits make subscription-led monetization an exciting proposition for any IoT business.
Connectivity
Connectivity is one of the essential pillars of the IoT and the more connectivity a subscription-based business has with customers, the better it has the capacity to be.

As mentioned, successful subscription businesses are about strong customer relationships. Building those relationships means understanding the customer so you can design great experiences that respond to individual needs over time - that requires data. The more touchpoints you have with a customer, the more detailed the picture you have of who they are and what they want.


That's what makes constant connectivity one of the greatest opportunities for the IoT for subscription businesses. The combination delivers real-time data that subscriptions thrive on and are designed for in order to enable service development.


Predictability
What also happens over time, as a result of those enhanced customer insights, gained from the combination of the IoT and subscription model, is that they will more accurately inform product development.

That means more accurate predicted outcomes, but it also allows businesses to reach a point where they are no longer retrospectively acting to improve or fix issues. They can use predictive analytics to prevent problems from occurring in the first place, all of which ensure greater customer loyalty and more stable revenue.


Dynamic pricing
Lots of businesses have shied away from dynamic usage-based pricing in the past because they don't have the ability to do it well. However, the connectivity and data of the IoT in collaboration with subscription models, makes dynamic pricing both viable and tangibly beneficial to your customer relationships and, as a result, to your business. They enable the user to scale their usage up or down with their requirements, enhancing their sense of control, their brand loyalty, and enabling a prolonged customer life-cycle with increased dependency on the service.

Smart businesses are recognizing the opportunities presented by the combination of the IoT and subscription models. They are exploring the options when it comes to subscription monetization, whether it's starting a new venture or transitioning an existing one. In particular, product manufacturers are considering alternative ways to generate revenue, especially repeat revenue, by monetizing knowledge, information, and entertainment to enhance the product experience.
Businesses leveraging IoT and subscription models
Last week we wrote about how subscription-based business models are attracting a diverse range of industries, from those intentionally designed for the space to those that are pivoting to service as a product. The combination of the IoT and subscription models supercharges those opportunities, making space for innovation in industries from mobility to healthcare, energy, and more. For example:
Traditional businesses pivoting to IoT subscriptions


Automotive
Known for selling vehicles, Audi has an IoT-based solution, Audi Connect, which is designed to improve the traveling experience for drivers and passengers by providing infotainment.


Manufacturing
Kaeser Kompressoren, the manufacturer of compressed air systems, has introduced an 'air as a service plan', where they either buy equipment and pay a subscription for ongoing services or they don't purchase any equipment at all, and pay for everything as a subscription service. The key to their subscription is that their products now contain sensors that deliver back real-time analytics, predicting and preventing system outages before they occur (predictive analytics). It's a game-changing service for their B2B customers and the success of their own businesses, which ultimately nurtures greater loyalty through a better customer experience.

Businesses built for IoT subscriptions


Inspire
The cleantech company based in California offers customers a "smart energy" subscription that offers customers 100% renewable energy as well as energy management services.


Cooler Screens
The company turns the glass doors of store refrigerators into enticing IoT-enabled screens that allow brands to offer real-time promotions and harness customer data while providing retailers with out-of-stock alerts, pricing updates, and more.


Challenges to monetizing subscriptions and the IoT

The challenges for businesses when it comes to combining subscription models and the IoT tend to come from trying to use product-focused legacy systems that won't accommodate the flexibility or personalization required by IoT and/or subscription businesses. They also cleave to a technical and psychological barrier when it comes to financing, placing revenue before customer experience and ultimately damaging both.

Scalability
For businesses that try to adapt legacy systems to subscription models, the long-term development of the service presents enormous challenges. There is a huge investment that goes into adapting them for purpose initially, requiring complicated workarounds that are inevitably less than ideal solutions.

However, as time goes on and the business grows, those workarounds become ever more complex, more time-consuming, and costly to maintain, as well as more limiting to the evolution of the customer relationship.

Billing complexities
It is essential to have an operational infrastructure for monetization and billing processes in any company, but for IoT and subscription models, those systems need to 'think' differently. They must allow for tracking, invoicing, billing, and collecting on a recurring and changing basis as the customer updates their service usage over time.

As Johan Trip went on to say in his article: "Accounting policies must be changed to recognize revenue differently. Whereas product revenue is recognized upon delivery to the customer, recurring revenues are recognized incrementally."

User experience and self-service capability
For customers, one of the great benefits of subscriptions is the ability to manage their own usage (scale up or down according to their need), so this too needs to be accounted for. When the link between commerce and billing is decoupled, a lot of data tends to get lost, it becomes complicated and impossible to fully understand the customers.

Collection, compilation, and usage of user-specific data
The collection, analysis, and usage of customer data in order to improve the customer experience both on a personal level and in general is a complicated process when it's done well.

The great benefit, as mentioned, of IoT and subscription models is the quality and volume of that information generated by greater connectivity. However, without the right systems, processes, and knowledge, it can be both overwhelming and used incorrectly.


Traditionally businesses use horizontal integrations between commerce, billing, and analytics systems. These are painful and costly, and data gets lost in translation as the systems are not built with a unified data model.


Predictive analytics
One of the main reasons more companies are offering subscription services where they weren't a traditional part of their business is because of the predictability that goes with the data gathered from the IoT.

Analytics systems need to be able to measure the right metrics and enable users to interpret them correctly, which will help to drive long-term partner-customer relationships.
The big business solution
The solution to these problems lies in a user-centric approach that's applied to all stages of the customer journey and all areas of the business, from company mindset to the technology that's deployed. The only way to define your USP and honor your particular brand promises through a great customer experience is to customize these platforms and processes. Take the following into consideration:

End-to-end orchestration on one platform
Being user-centric requires an end-to-end approach to subscriptions. At keylight, we offer pre-built self-service and partner applications that are connected to the same platform so the customer journey is well integrated and no customer interaction is lost.
MACH architecture
Our Microservices-based, API-first, Cloud-native, and Headless (MACH) architecture, is agile, future-proof, and can roll updates out quickly, giving businesses a competitive advantage over those using clunky legacy systems. It is different from the principles that underpin traditional billing platforms in that it's designed with the future in mind.
Customization
The ability to evolve in a way that's unique to you and your customers is essential to subscription-based businesses. As we've mentioned before, this is a real problem for companies that think they can adapt by using existing systems that are not built for the purpose. We offer frameworks and tools for developers to build their own custom applications, along with our platform, which provides a high level of connectivity between systems with a user-centric API to deliver a great user experience on every interface.

At keylight, all aspects of our service are in line with the needs of IoT companies. Our system is built for users to interact with subscriptions, manage their complexities effortlessly, and predict dynamic customer relationships. Choosing keylight unifies subscription systems and lays the foundation for businesses to expand both horizontally and vertically.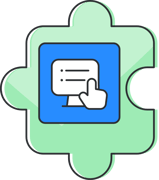 Replace traditional engines with
a user-centric subscription system
Start now with >keylight/